Compression Spring Calculator - 24 Hours Made
Данные расчета
Чертеж
Параметры пружины
F2 23,8 ±4,8 H
Fкр 0 H
F3 41,7 H
l0 50 ±1,50
l2 30
lкр 0
l3 15
d 2
D1 30 ±0,60
t 7,8
Сталь Б2, ГОСТ 9389
409
704
0,017
1,19
14,00
2
6
8 ±0,5
2x30x50x8
2x30x50x8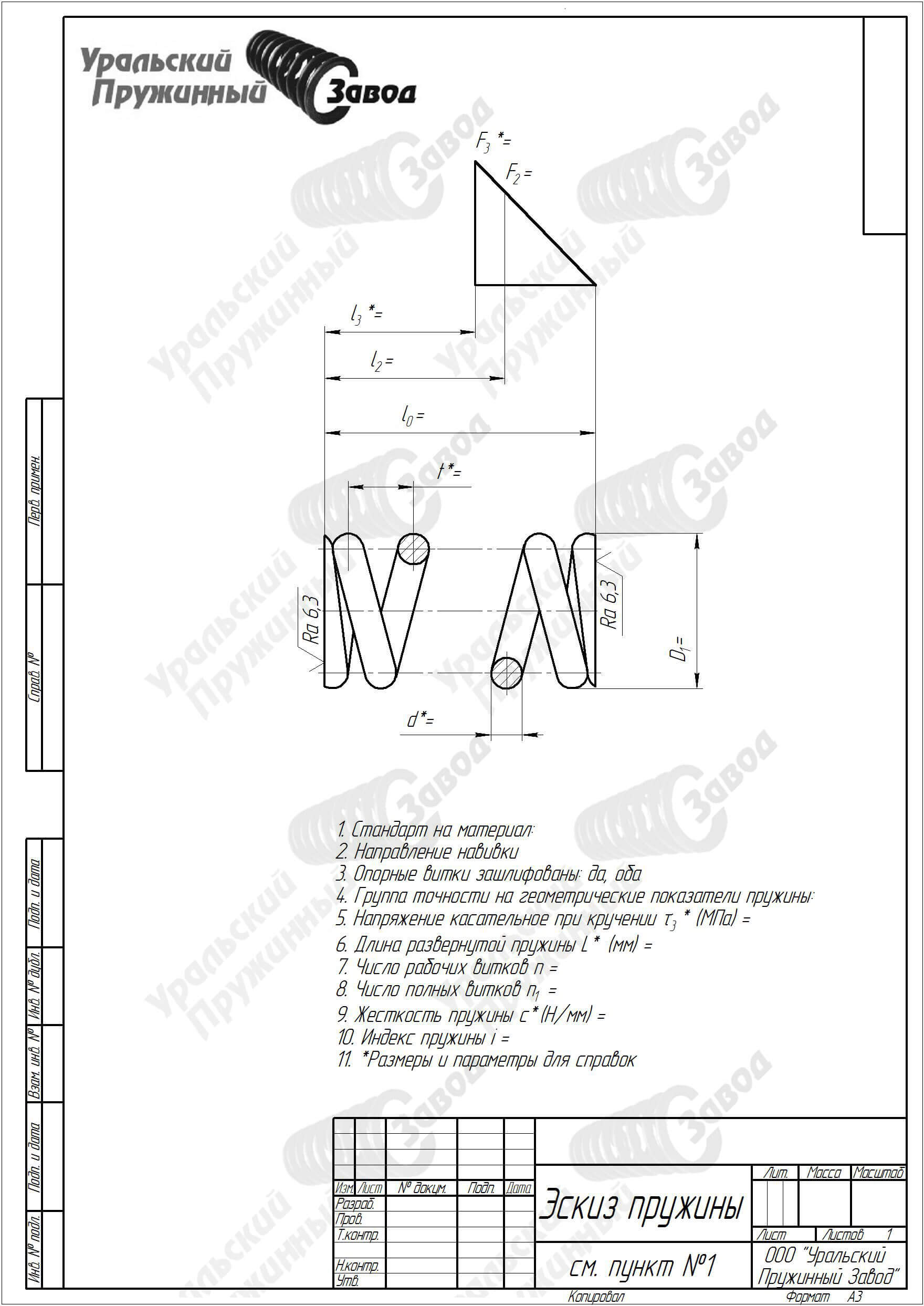 Индекс пружины, i

14.00

Жесткость пружины c, Н/мм

1.19

Длина заготовки, мм

703.36

Рабочая нагрузка F2, Н

23.8 (2.43) +-4.8

Максимальная нагрузка F3, Н

41.7 (4.25)

Шаг пружины t, мм

7.8

Масса заготовки, кг

0.017

Коэффиц. кривизны витка пружины, k

1.10

Максимал. кас. напряж. τ3max, МПа

409

Расчётная величина прогиба S2, мм

20.00

Максимальный прогиб S3, мм

35.00

Общий допуск на диаметр, мм

1.2 - 0.60

Общий допуск на высоту, мм

3.00 - 1.50

Общий допуск на витки, кол-во

1 - 0.5

Величина отношения Ψ/d

2.9167

Табличное значение

0.5

Плотно сжатое состояние

15

Жесткость одного витка c1, Н/мм

7.14

Прогиб одного витка Ψ, мм

5.8333
How to order and receive a spring
Want to buy a spring? Easily! With us you can place an order in a matter of minutes!
To order and receive the springs you are interested in, use the convenient service on our website. A few simple steps and you will buy springs that meet the requirements of high quality and reliability.

Enter the required spring parameters into the "Spring Calculator" and click the "Calculate" button.
The site will process the data of your request (if errors are found, the system will inform you about it), provide a drawing and display full information about the order, which will indicate the parameters of the spring, their number and cost of work.
If you confirm the technical parameters and agree with the order value, enter the contact number of your cell phone in the "Phone" field. The specified number will receive data for access to your personal account, and you will also receive notifications about the status of the order.
After entering all the data, click the "Checkout" button.
Next, you can print an invoice from the list of orders. Our manager will receive a notification about the receipt of a new order and will definitely contact you to clarify the details.
After receipt of payment, your order goes to production. All stages of the order and their implementation are reflected in the list of orders.
As soon as your order is ready, it will be forwarded to the logistics department. Delivery information appears in the order list.
Last Orders
2023-09-22 08:44:31


20,00x100x290x11

4pieces

2023-09-21 18:44:43


2,2x18x1000

4pieces

2023-09-21 18:44:09


6x30x1000

10pieces

2023-09-21 15:35:02


2x30x50x8

10pieces

2023-09-21 15:12:19


2,00x50x650x50

20pieces

2023-09-21 11:46:06


12,00x110x560x17,5

3pieces

2023-09-20 20:25:01


2,00x75x650x17

51pieces
We will make springs to order - find out the price in a couple of clicks!